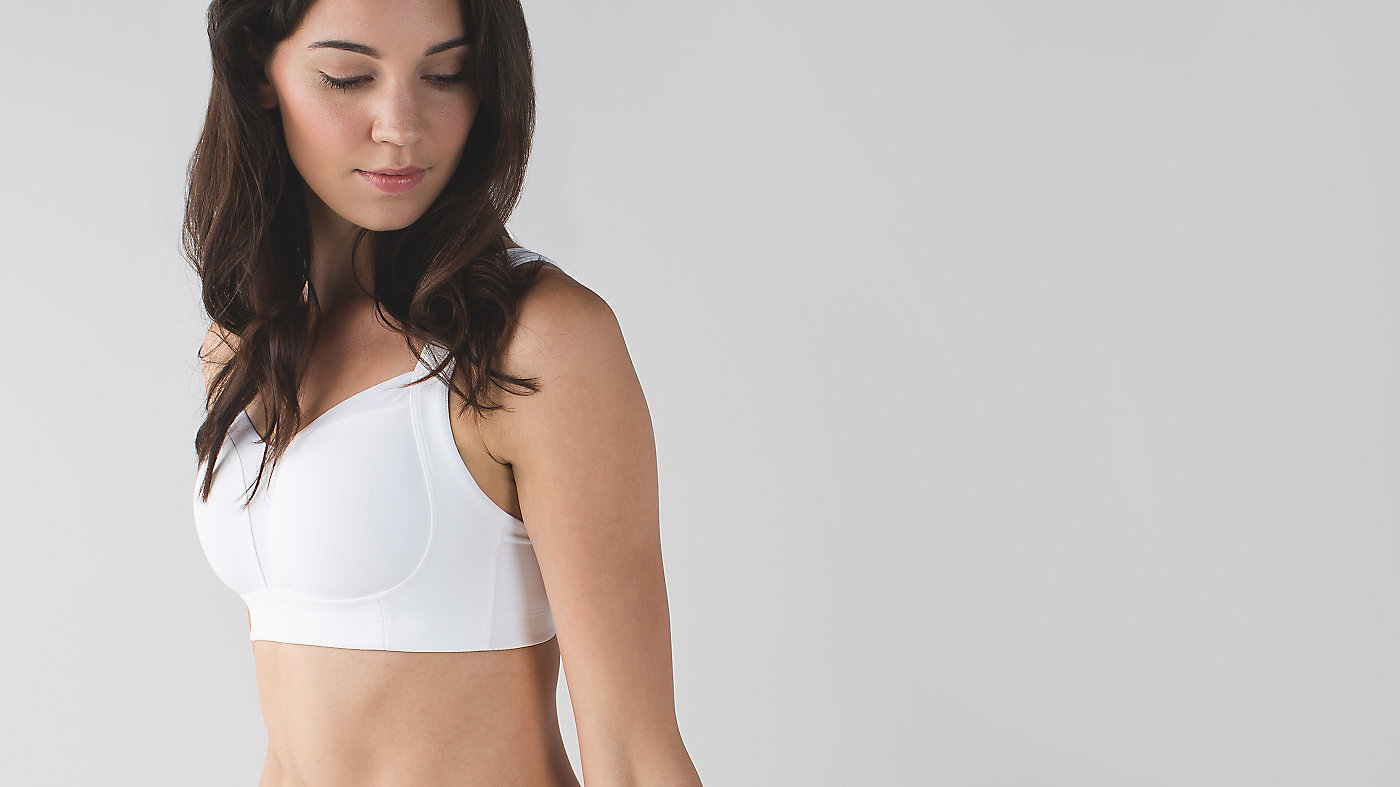 Ta Ta Tamer III
is rated out of
5
by
14
.
Rated

4

out of

5
by
Breeza
from
Great Bra
Love this bra , very supportive(I am a 36D). Only tiff i have with it is the removable padding doesn't actually fit into the bra now that i have washed it. Otherwise the bra is super supportive and i think I'm now a Lululemon only sports bra buyer.
Date published: 2017-03-31
Rated

5

out of

5
by
Workitout
from
Love this bra!
Can't express enough how helpful these bras have been. I was a 38K and had to have a reduction to a 38D for medical reasons. After the surgery, I was determined to find a bra that I could wear with excellent support during the day and that could make it though a work out as well. They give a great shape as well, and I always feel secure in this bra. I've been wearing them for four months now and hope the quality will hold up too. Would highly recommend the TaTa III so far!
Date published: 2017-03-14
Rated

5

out of

5
by
SPSP
from
LIFE CHANGING
Being a size 8 E I have always struggled to find my size in bras. Finding sports bras is even more of a struggle. I would have never ever thought to look at Lulu for a sports bra as I cannot wear simple crops. This bra has changed my life! I was able to get it small around my torso and big around my chest! And it works!! And without any underwire I can wear it all day and be comfortable! Thanks so much Lululemon!!!!1
Date published: 2016-11-20
Rated

5

out of

5
by
LuluLover93
from
The best bra I've ever owned!!
After strong recommendations from friends I finally decided to invest in the Tata Tamer (II & III) and I have never looked back. The comfort and support that the Tata offers for a sports bra is in my opinion unparalleled and boosted by the fact that they are underwire free! Perfect for run, yoga or anything in between the Tata always has me feeling supported and secure. I am now the one giving strong recommendations to try the Tata Tamer and love checking back in store to see the beautiful new colours to add to the collection!
Date published: 2016-08-22
Rated

5

out of

5
by
Gigi17
from
The best bra
I love this bra - I owned a couple of pairs in an earlier style and have upgraded to Ta Ta III. I am a 36DD and find this bra so comfortable and supportive. It's gym bra plus more, I use it for everyday wear as well. Great fabric and the straps don't cut into my shoulder.
Date published: 2016-08-16
Rated

4

out of

5
by
Peachy1004
from
Love it, but disappointed
I'm a larger busted athlete and had never worn a wireless bra before the Ta Ta Tamers. The Ta Ta Tamers are so supportive and comfortable that I don't even notice that there's no wire. Unfortunately, within 4 wears the thread/seams had started coming apart at the back and I'm now hesitant to wear it in case it falls apart. I always wash it in a lingerie bag. It's the sort of bra that I'd love to wear all day, every day, and I love Lululemon's brand and quality, so I'm disappointed that my favourite bra is falling apart.
Date published: 2016-07-28
Rated

3

out of

5
by
Human
from
50/100
Despite the not so comfortable fit (itching at back and shoulders) I still purchased more believing that new one will have better quality stitching. Sadly, it is not the case. I wash all 'hand wash' in special washing back delicately I did see one recent 5star review which is exciting if it meant [product improvement?]
Date published: 2016-07-28
Rated

5

out of

5
by
Greta
from
Finally a nice sports bra!
Loving this bra so much it feels almost too good to exercise in... but I have! Plenty of support (I wear the 34DD) and comfortable, no unfortunate red marks all around my ribs. Great fabric and flattering fit; flesh isn't bunched up everywhere. Worth trying on in-store just to ensure you get the right fit.
Date published: 2016-06-27
Rated

3

out of

5
by
melveey
from
Good support
This is more bra than crop top but great for c cup and larger. Unfortunately the straps are too short to wear crossed over at the back which is how I like to wear my sports bras. Overall a good support bra and easy to get on and off with the hooks at the back.
Date published: 2016-03-18
Rated

3

out of

5
by
Jubilee
from
Not for everyone
Thought I'd try this because of Lululemon's reputation and reviews saying it gave high support for larger busted women. My bra size is an 8/10 E so I forget that sports bras that claim the above usually don't fit petite women with larger cups. Ended buying a 34DD because the 32DD was small in the cup size but not the band size and no larger cups were available. Good as a crop top for yoga but not enough support for running. Also I removed the padding as it gave me more cleavage, which I didn't need.
Date published: 2016-02-22